Team to 'Climb Everest' for Children in Need
This Friday (13 Nov) the team behind 'Clip n Climb' at Cornwall Services is set to scale Mount Everest to raise money for BBC Children in Need – without even leaving the county. Four of the staff will attempt the feat that will see them work together to climb a combined total of 8,848m – the height of the world's highest mountain. The challenge will start at 10am and it is hoped they will be able to complete it in around 8 hours.
Claire Cole, Operations Director at Indoor Active, which runs the Clip 'n Climb at Cornwall Serivces, explains:
" We decided we were going to take part in Children in Need this year, but wanted to do something a bit more then simply having some collection tins doing the rounds. We are going to be using all the climbing walls as part of the challenge and we will be climbing in two teams of two, alternating every 2 hours. The walls vary from 9-10 metres high and different levels of difficulty – it's definitely going to be a tough feat to complete. Originally we were going to climb the height of Brown Willy but that just seemed a bit too easy. We may regret that decision by Friday evening!"
The team members taking part in the big climb are Claire Cole, Chris Rowlands, Matt Parkinson, Harry Bartlett.
As well as the sponsored climb, Indoor Active will also be donating £1 of every entry to Clip 'n Climb and Soft Play on Friday 13 November to Children in Need.
Clip 'n Climb is a Kiwi craze that is suitable for everyone from 4 years and up. The clever concept allows you to simply clip on to an automatic belay system and start climbing without the need for a partner, making climbing safe and accessible for everyone, from pre-school kids to retirees. It's a safe and fun climbing experience based around a variety of themed challenges designed to offer a range of physical and mental tests.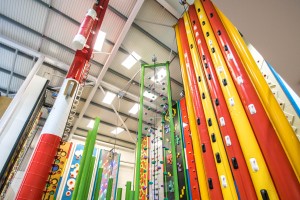 Posted: November 11, 2015 at 3:06 pm
---