NEW SEASON OF CHARITY 'OPEN BIKE NIGHTS' AT CORNWALL SERVICES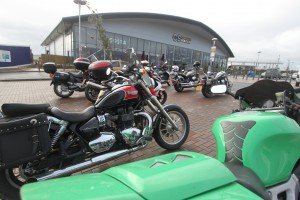 Following its huge success last year, the Royal British Legion Riders (RBLR) is launching a 2016 season of 'Open Bike Nights' on 14th April. The charity evenings take place at Cornwall Services on the A30 every Thursday, from April to September, and raise money for the Royal British Legion Poppy Appeal.
Last Year's season of Open Bike Nights raised £3,183.57 for the charity and the team behind them is hoping to raise even more this year. The first event takes place on Thursday 14th April from 6.30pm-9.30pm.
The events are run by the Royal British Legion Riders (RBLR) Cornwall Squadron, and involve bikers from all over the county getting together once a week to talk bikes, listen to live music, peruse trade stands and raise money for a great cause. There is a suggested donation of £1 to attend the event and most of the tenants at the services offer a discount on food and drink to all visitors taking part in the Open Bike Nights.
Kath Tucker, Cornwall county Representative for RBL Riders comments: "Last year was the first time the Open Bike Nights took place at Cornwall Services and it was a great success. We frequently got over 100 people joining us for an evening of bikes, bands and banter – and our biggest night saw 225 bikers coming together. Hopefully this season will be even bigger!"
Alex Lawson, Services Manager at Cornwall Services, added: "We can't wait to have Kernow Squadron and their supporters back on site. The nights are brilliantly run, with a great, friendly atmosphere, and make Thursdays evenings at the services a highlight of the week."
Annie Binding, Community Fundraiser for RBL Cornwall, said: "RBLR Kernow Squadron organises the Open Bike Nights programme and it is a brilliant part of our all year round fundraising activity in Cornwall. The money raised goes to the Royal British Legion Poppy Appeal to further our efforts in assisting those Serving and ex Service Personnel and their families in their hour of need. We currently spend £1.6 million PER WEEK on our welfare work and rely on events just like the Open Bike Nights to keep providing this essential service. I welcome contact from anyone with any ideas of fun ways to raise money for this brilliant cause."
For more information on Open Bike Nights visit http://www.rblr-cornwall.co.uk. For more information on Cornwall Services visit cornwall-services.com.  For information on RBL or if you have fundraising ideas that you'd like to discuss call Annie Binding on 07768 793847.
Posted: April 13, 2016 at 1:52 pm
---