Additional Electric Car Charger at Cornwall Services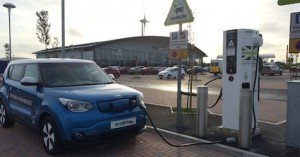 We are delighted to announce that we now have two electric car chargers at the Services. The second charger has been installed by Ecotricity as part of its Electric Highway, following the popularity of the first unit.
Cornwall Services now has an 'DC&AC fast charge' unit and also a 'CCS fast charge' unit. Both are free to use as long as you register for an Ecotricity Swipe Card
Andrew Lawson, Cornwall Services Manager, comments: "The electric car charging point has been well used since we opened 2 years ago and has become increasingly popular over the last year. The second charger will definitely help cater to the needs of the growing group of electric car owners and we are delighted to be part of the Electric Highway network."
The aim of the Electric Highway – Britain's first and biggest national network of electricity pumps – is to make it easier for electric vehicle owners to make long distance journeys – to help make electric vehicles the logical choice for Britain's drivers.
Posted: May 11, 2016 at 1:55 pm
---