24/7 self-service launderette comes to Cornwall Services
Cornwall Services has this week installed a 24/7 outdoor self-service launderette.  The launderette is located behind the main services building, opposite the BP garage, and is ideal for washing and drying regular or heavy loads.
Wash cycles take just 30 minutes, and customers can opt to receive SMS updates on the progress of their washing, so they can pop into the Services and use the facilities whilst they wait.
The launderette is equipped with 8kg and 18kg washing machines, plus a 18kg tumble dryer.  It costs just £4 for an 8kg wash, £8 for an 18kg wash, and only £2 for drying. The washing machines are energy efficient and have a high performance super-spin that means laundry is easier to handle and dries more quickly.
Detergent is provided and included in the cost of a wash. It's free of phosphate and colouring agents and meets the EU ECOLABEL and ECOCERT standards. It is also hypoallergenic, ideal for sensitive skin and has a pleasant neutral fragrance.
Alex Lawson: Services Manager said: "I'm often asked if we have a launderette on site so I'm delighted that I can now say yes!  This new facility is ideal for campers and truckers, but also locals wanting to wash large items, such as duvets, throws, pillows, blankets.  It will also be very handy for local sports clubs as they will be able to wash and dry an entire team's kit in one go!! It's cheap, easy to use, and with SMS updates, customers can come into the services and grab a bite to eat or do some shopping whilst they wait."
He continued: "We offer all customers two hours free parking, but if they are using, or waiting to use, the new launderette and go over this time we will waiver the parking fee. To qualify, customers simply need to leave their registration number with the duty manager/security."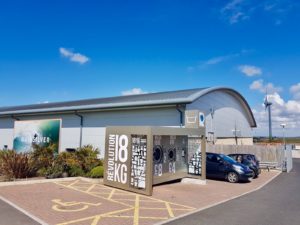 Posted: May 15, 2017 at 9:58 am
---