Virtual Reality Car Racing comes to Cornwall Services!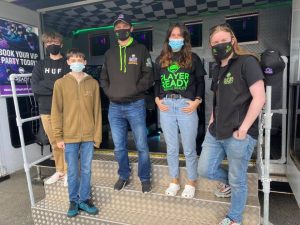 New for the summer holidays, visitors to Cornwall Services can now have a go at virtual reality racing!
Located in the main car park next to the barber hut, up to six people at one time can experience the immersive virtual reality of driving a high-speed racing car around a world famous race track.
With hundreds of different types of cars to choose from, the virtual reality technology uses a force feedback wheel and pedals as well as blown air to create a fully realistic and exhilarating experience.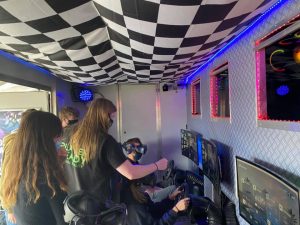 With a choice of realistic car racing or cartoon style fun karting, it is suitable for all ages from adults to kids (and big kids!) – as long as they can reach the pedals. The recommended age is 7+ for karting and 10+ for car racing.
The cost is £5 per player for a 15 min / 2 race session and longer sessions up to one hour are available at £20 each. No booking is required but can be made for bigger groups.
Racing is currently available 2-7pm on week days and 11am-7pm at weekends. From 17thJuly it will be open 11am-7pm every day.
For more information go to Player-Ready.co.uk or facebook.com/PlayerReadyVR or call 01872 487194.
Posted: July 6, 2021 at 2:11 pm
---