Supporting new Changing Places in Cornwall
Back in 2016, we installed a Changing Places toilet – a spacious fully accessible toilet that has a height adjustable changing bench and hoist – after an approach by one of our customers, Rachel George.
Rachel's son, Adam, suffers from a rare neuromuscular disorder, which means he can't sit unaided, stand or walk. Rachel asked if we would consider installing a Changing Places toilet that would give Adam the freedom to meet friends at the Services.
Once Rachel explained how difficult outings can be for families like her own, we wanted to find a solution as quickly as possible.  We settled on converting an existing staff toilet/shower. The Changing Places toilet has all the vital equipment and was quick to install – it only took a day! Also the cost was not prohibitive and it is regularly used by a large number of customers with a wide range of needs. Adam can now meet up with his friends at the Services without the constant worry of not being able to go to the toilet, so it's life changing for him and for many others.
In a bid to boost the number of Changing Places toilets in Cornwall, Cornwall Council has published guidance on planning and installing Changing Places toilets for those involved in building new public facing developments as well as those managing existing buildings.
We hope other destinations in Cornwall see how quickly and easily we were able to do this and decide to follow suit.
For further information visit www.cornwall.gov.uk/changingplacestoilets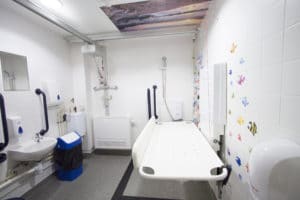 Posted: November 15, 2018 at 1:10 pm
---