Nature Experiences in Cornwall this September
The season of mists and mellow fruitfulness is upon us! It's the perfect time to explore some of the fantastic nature Cornwall has to offer and our friends at Visit Cornwall have some great suggestions of place to visit this September. For the full list visit www.visitcornwall.co.uk.
Experience history and the natural beauty of the Cornish Coastline at Tintagel Castle, Tintagel
At Tintangel castle you can experience both nature and history combined with its stunning coastal views, steeped in myth and mystery. From the Coastal Path you can see the rugged coastline and cliffs that are usually surrounded by coastal bird. If you're lucky you could even catch a glimpse of seals bobbing in the sea below!
Grab your guide on entry and follow the map to learn all there is to know about this chanted location.
Walk at Golitha Falls Nature Reserve, Near Liskeard
Golitha Falls has a number of marked trails for you to enjoy, where you can see the stunning ancient woodlands with the flowing River Fowey that cascades through a steep valley gorge creating an outstanding view. The National Nature Reserve is home to diverse plants and beautiful wildlife, including over 30 species of birds, for you to see. It is a great place for a dog walk as it is dog friendly.
Forage for your food and explore West Cornwall with Fat Hen
With many different courses available this could be your way to really experience nature as you forage for food. They offer a taster day for you to experience it, which involves a 3 hour foraging trip in west Cornwall. This is in a variety of unique landscapes from seashores to woodland and farmland. There is no better way to really see what West Cornwall has to offer. Countryfile has chosen it as one of the top ten best foraging courses in the UK.
Take a boat trip with Marine Discovery, Penzance
These trips give you the chance to see the beautiful Cornish scenery and see some of Cornwall's wildlife up close. You could see, grey seals, various species of dolphins and porpoises, seabirds or even giants such as minke whales, basking sharks and leatherback turtles! It gives you a very special encounter and there are a few different trips to choose from, they usually run from March to the end of November depending on the conditions, see their website for more information.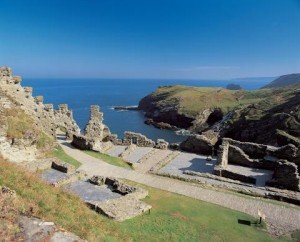 Posted: September 7, 2015 at 1:23 pm
---