Electrifying Cornwall – First Quick Charger in Cornwall Installed at Services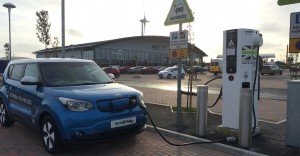 12 January 2015
The first public Quick Charger for Electric Vehicles (EVs) in Cornwall will be officially opened at Cornwall Services, Victoria on Friday.
The charger, installed by renewable energy supplier Ecotricity, is the first on a trunk route in Cornwall and forms part of their 'Electric Highway' network at motorway service stations nationwide, able to charge vehicles in less than 30 minutes.
On Friday and Saturday (16th/17th January) independent EV experts ecodrive will be hosting an exhibition at Cornwall Services of the latest Electric Vehicles from Kia, Nissan, Renault, Peugeot and Mitsubishi and extend an invitation to the already significant number of Cornish EV drivers to come along for a charging demonstration and to sign up for a free card to use the charger for themselves.
Matthew Trevaskis, Director at ecodrive, comments, "This new Quick Charger at Cornwall Services, at Victoria on the A30, is a fantastic addition to the charging infrastructure in Cornwall and will be very useful for existing EV drivers to get more out of their electric cars and vans.  It also connects Cornwall to the rest of the Electric Highway network on the M5 allowing drivers to use their cars for longer trips and for visitors to drive to Cornwall in their EVs."
Gregor Stevenson, Manager of Cornwall Services added, "We're very proud to host the first public Quick Charger in Cornwall at our recently opened facility, right in the heart of Cornwall, with all the amenities you would expect from a motorway services, along with locally sourced food businesses. We look forward to welcoming EV drivers from near and far, 7 days a week from 6am until 11pm, whilst they charge their cars for free!"
The exhibition of vehicles will run Friday 10am-4pm and Saturday 10am-2pm.
Posted: January 12, 2015 at 1:27 pm
---