Discover the Doc Martin Filming Locations
Our good friends at Visit Cornwall have shared the following insights with us – perfect for all Doc Martin aficionados! For the full post visit www.visitcornwall.com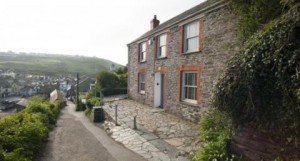 Port Isaac in north Cornwall plays the fictional village of Portwenn in the much-loved Doc martin TV series. Here we take in some of the locations where cameras rolled…
Fern Cottage
Alongside the village of Port Isaac itself,Fern Cottage is one of the most recognisable Doc Martin locations and draws fans from all over the world keen to get a shot of Doctor Ellingham's surgery. It is easily found in Port Isaac by walking 100 metres past the harbour and up the hill towards the coast path for Port Quin, and as well as the kudos of welcoming the blood phobic doctor, Fern Cottage enjoys impressive views over the village and natural harbour. When cameras aren't rolling, die-hard fans of the series can rent the cottage as a perfect holiday idyll.
Doydens Castle, Port Quin
Quite possibly the most romantic place to lay your head in Cornwall, Doydens Castle is the ultimate hideaway for two. Mrs Tishell therefore thought she'd made the perfect choice when she used it to reveal her long standing crush on Dr Ellingham in the final episode of series five. But even the magic of this miniature castle positioned high up on the cliffs in Port Quin, just around the headland from Port Isaac, wasn't enough for the doomed romantic rendezvous that she had orchestrated. The unrequited love instead led to Doc Martin revealing his true feelings for Louisa, leaving the series on a feel-good, will they, won't they marry cliff hanger. Doydens Castle is available for holiday rental through the National Trust.
St Nonna's Church, Altarnun
He tried to tie the knot with Louisa at St Nonna's Church once before but the ill-fated wedding ended in a red-faced Doc Martin jilted at the altar. The second visit is a much happier occasion and this beautiful 12th century church makes an idyllic setting. Chosen by location scouts for its position beside the Altarnun village green and river, St Nonna's Church is known as the Cathedral of the Moor and comfortably seated the 150 extras who watched as the sweethearts walked down the aisle.
For more Cornish insights visit www.visitcornwall.com
Posted: July 15, 2015 at 1:46 pm
---