Cornwall Services to Host Royal British Legion Charity Bike Nights 2015
Cornwall Services, located on the A30 near Bodmin, has announced that it will be hosting the Royal British Legion Riders (RBLR) Open Bike Nights 2015. Run by RBLR Kernow Squadron, the Open Bike Nights is a weekly fundraising event that takes place every Thursday, from April through to September, 6.30pm-9.30pm. The first event for 2015 will take place on 16 April.
For a charity donation motorbike fans can come along, listen to the live music, look at the bikes and peruse the trade stands. The Open Bike Nights events have been running for 4 years and last year they raised a total of £4,724.92 for the national Royal British Legion Poppy Appeal.
Teresa Frost, County Representative of Kernow Squadron, comments: "The Open Bike Nights are a great evening out for bikers and non-bikers alike. We frequently get in the region of 100 people joining us for an evening of bikes, bands and banter, all in aid of a fantastic charity. We are extremely grateful to Cornwall Services for its hospitality and support of the event and are looking forward to a new year of Open Bike Nights at this great location."
Gregor Stevenson, Site Manager at Cornwall Services, added: "We are really excited to be hosting Open Bike Nights 2015. Hopefully our easy to get to location, right on the A30, will encourage even more people to come and check out the events, raising even more money for a great charity. A number of the tenants at the services are offering a 10% discount on food and drink for those coming to Open Bike Nights – another incentive to come along!"
Annie Binding, Community Fundraiser for RBL Cornwall, said: "RBLR Kernow Squadron organises the Open Bike Nights programme and it is a brilliant part of our fundraising activity in Cornwall. It is growing year-on-year and this fantastic new central location will hopefully help it continue to do so in 2015. The money raised goes to the Royal British Legion Poppy Appeal to further our efforts in assisting those Serving and ex Service Personnel and their families in their hour of need. We currently spend £1.6 million PER WEEK on our welfare work and rely on events just like the Open Bike Nights to keep providing this essential service."
The first event will take place on 16 April (6.30pm – 9.30pm) and they will then take place every Thursday until 3 September. Each week there will be a live band and trade stalls, as well as a large number of bikes to look at. A suggested donation of £1 is asked from those who attend.
For more information on Open Bike Nights visit www.rblr-kernowsquadron.co.uk or call 07572159262. For more information on Cornwall Services visit cornwall-services.com.  For more information on how you can help to raise funds for the Poppy Appeal in Cornwall contact abinding@britishlegion.org.uk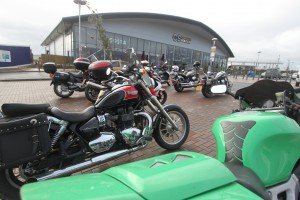 Posted: March 30, 2015 at 10:57 am
---