Cornish craftsman sets up shop at Cornwall Services
Woody's, a Cornish family-run business selling quality handmade timber items, has this week opened its first ever shop. Located at Cornwall Services on the Victoria Interchange junction of the A30, owners and talented carvers Mike and Emma will make and sell garden furniture, planters, toys, animal shelters, souvenirs and much, much more.
Visitors to the services will be able to watch them at work through a specially designed hatch, as well as browse the vast selection of items on sale.  Mike and Emma will also 'make while you wait', including engraved souvenirs and plaques.
All the wood used will be 100% Cornish and come from sustainable sources, namely local coppiced trees.  All shavings and waste products will also be recycled and turned into animal bedding.
Mike Fry, owner and master craftsman, said: 'We are so excited to be setting up shop at Cornwall Services, we can't wait to start trading!  We make anything and everything from wood – you name it, we probably make it!  There will be a wide selection of handcrafted items for sale, including dolls houses, bird feeders and garden toys, but if anyone has any requests we will make items to order too. Also, depending on the item, we can engrave or personalise items on the spot.'
Alex Lawson, Manager at Cornwall Services said: 'We're delighted to be supporting this small local business. Mike and Emma are brimming with ideas and have worked really hard to get the shop up and running.  Their fantastic handcrafted items will no doubt prove very popular with locals and holiday makers alike and we wish them every success with their new venture.'
Mike went on to say: 'We are a family run business and have even got the children involved.  They designed our logo and are helping us with our Facebook page @WoodysCornwall.'
Woody's will be located in a wooden 'stable' next to Isabel Rose Farm shop outside the main building. It will be open seven days a week from 9am to 5pm. For enquiries call 01726 400628 or email woodyscornwall@gmail.com.
For more information on Cornwall Services visit cornwall-services.com.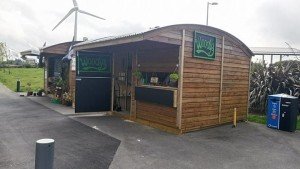 Posted: August 8, 2016 at 8:22 am
---