ANOTHER RECORD BREAKING SEASON FOR CORNWALL SERVICES
This summer was the busiest on record for Cornwall Services with on average a record 11,200* people visiting the site every day during August, an increase of more than 35% on the previous year.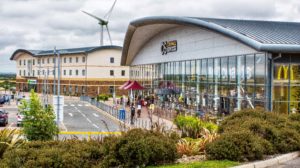 Andrew King, Commercial Manager, says: "Visitor numbers have increased year on year since we opened our doors in 2014 and include a strong base of loyal local customers as well as regularly returning visitors from out of county. This continued success and growth is testament to the fantastic array of businesses we now have on site and the superb team at Cornwall Services who look after customers and keep the place spotless."

The recent additions of a Costa Drive-Thru, a Greggs bakery and the Co-op convenience store have all proved very popular with the traveling public and added to the existing offer which includes Cornish Pizza Kitchen, Rowe's Cornish Bakers, McDonalds, Costa Coffee, Subway, WH Smiths, Mango Surf Shop, Saltrock clothing, Indoor Active soft play, Teddy Freddy's Barber Hut and Holiday Inn Express.
*This figure is calculated from 138,881 vehicles visiting the site during August, each carrying an estimated 2.5 people.
Posted: October 21, 2021 at 11:22 am
---